Abrahamic Family House

"The Form is translated from the three faiths, we use the lens to define what is similar as opposed to what is different and we use the power of that revelation to make the form."
A mosque honoring
tradition and celebrating

communal gathering

The mosque celebrates both collective congregation and vital provision of privacy. It uniformly gifts users with opportunities to observe the customs of Islamic prayer, once again using articulated thresholds to allow viewing to occur separately to the act of joining.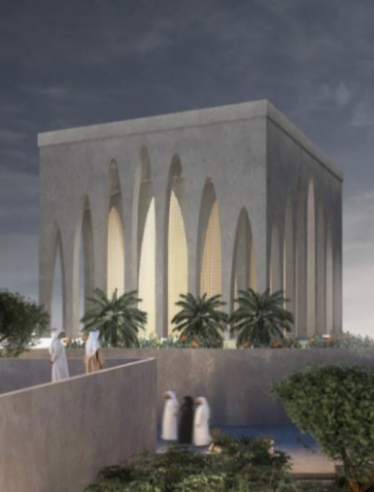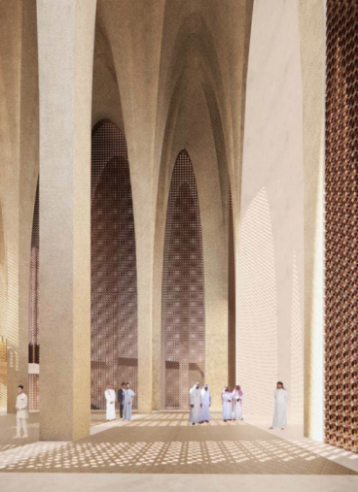 The building promotes sequence, layering, and a rhythmic journey that begins with observing, is followed by spiritual ablution, and culminates in prayer. This building has been designed not in service to typology, but in an earnest pursuit to represent its contemporary congregants. Its lofty, vertical vaults uplift its visitors, allowing them to feel enveloped in a space of veneration and historic belief.
A church designed for different
Christian denominations

to worship

Communal ceremony and togetherness are given priority, with a water element existing outside the church's entrance and manifesting as a ritual of crossing over, as opposed to the sequence of descent occurring in the mosque and synagogue.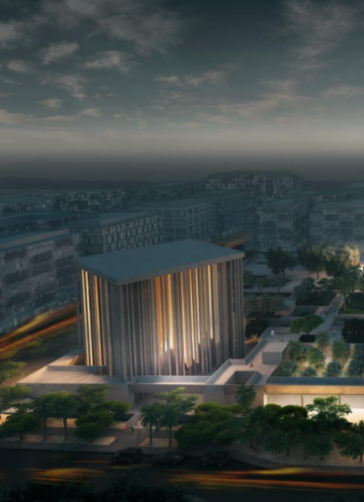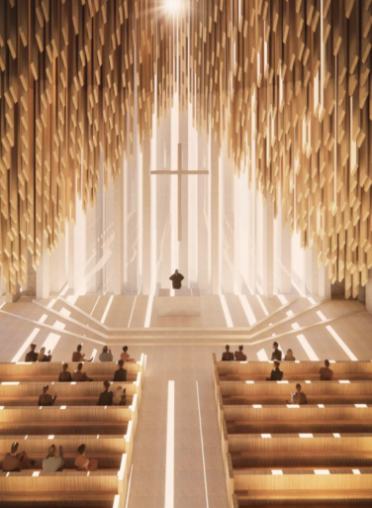 Throughout the day, the entirety of the interior is constantly in luminous flux, reminding visitors of their proximity with that which is transcendent and divine.
A synagogue championing the virtues of
congregation and ritual
As the first purpose-built synagogue in the United Arab Emirates, the synagogue presents a series of architectural thresholds that culminate in a shrouded, sanctified built representation of communal prayer. The multi-layered facade of the Synagogue recalls the Jewish Sukkot festival, where palm trees are harvested and communities build tents in their gardens as designated areas for gathering and eating.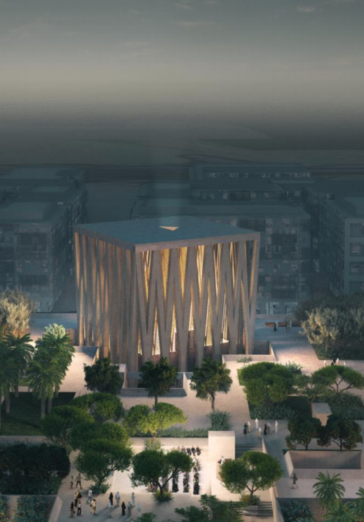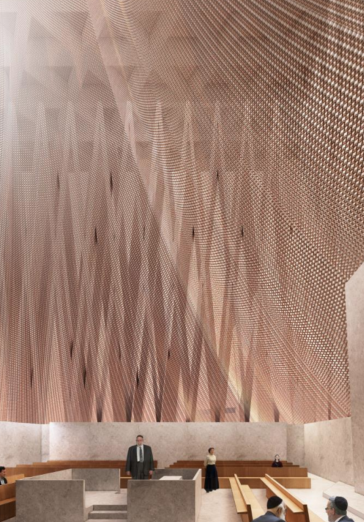 The ritual of assembling the Sukkot is celebrated through the rhythmic hierarchy of columns, between which visitors are invited to explore and learn about the Jewish faith. The overriding aim of the Synagogue is to bring people together and the synagogue features a series of interwoven spaces that work in service of human scale interactions.
ABOUT THE ARCHITECT
Sir David Adjaye OBE is recognized as a leading architect of his generation
Sir David Adjaye OBE is an award-winning Ghanaian-British architect, whose ingenious use of materials, bespoke designs, and visionary sensibilities have set him apart as one of the leading architects of his generation.
In 2017, Sir Adjaye was knighted by Queen Elizabeth II and was recognized as one of the 100 most influential people of the year by TIME Magazine.
The design of his practice, Adjaye Associates, won the Abrahamic Family House competition and was unveiled on September 20, 2019 at the Higher Committee of Human Fraternity's Celebration of Human Fraternity event in New York City.