Zayed Award For Human Fraternity
Award is open to nominees anywhere in the world.

JUDGING PROCESS
Jury panel members are selected according to
expertise.
The recipient or recipients of the Zayed Award for Human Fraternity are decided by an independent judging committee of experts, each possessing deep understanding and experience of humanitarian causes and challenges throughout the world.
The judging committee is appointed annually by the Higher Committee of Human Fraternity.
Each year, the jury will contain:
A representative of the Grand Imam of Al Azhar
A representative of His Holiness the Pope
A representative of the United Nations
Two people chosen by the Higher Committee of
Human Fraternity
The judging committee for the 2021 award includes:
HE Catherine Samba-Panza, former President of the Central African Republic, HE Muhammad Jusuf Kalla, former Vice President of the Republic of Indonesia, Rt. Hon. Michaelle Jean, 27th Governor-General and Commander-in-Chief of Canada, Cardinal Dominique Mamberti, Prefect of the Supreme Tribunal of the Apostolic Signatura
Adama Dieng, former UN Special Adviser on the Prevention of Genocide, Judge Mohamed Abdel Salam, Secretary General of the Higher Committee of Human Fraternity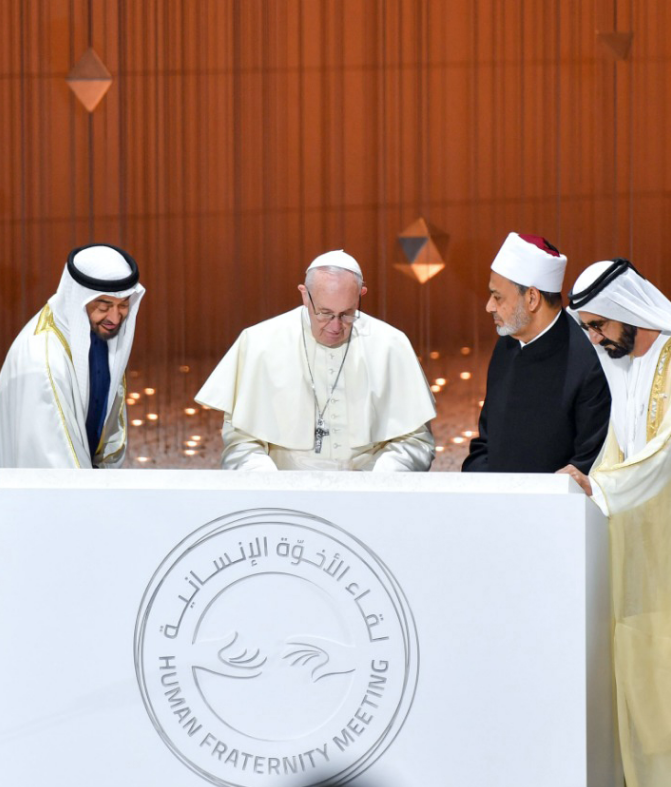 Recipients
Foster fraternity, solidarity, respect and mutual understanding
2019: Grand Imam of Al-Azhar His Eminence Dr Ahmad al-Tayyeb and Head of the Catholic Church His Holiness Pope Francis (joint honorary award). The two leaders were presented with the award following their historic signing in Abu Dhabi of the Document on Human Fraternity, which calls for all people to put aside difference in pursuit of progress through understanding, reconciliation and peace.